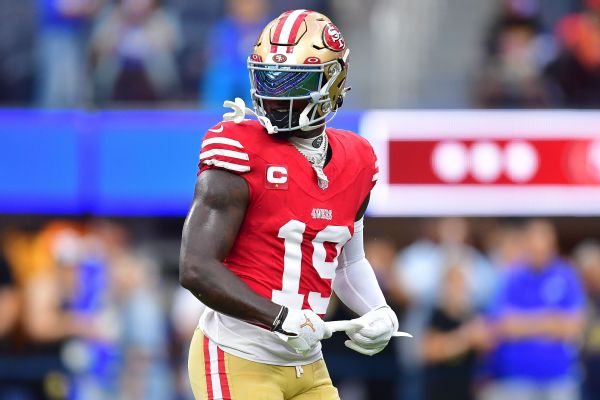 SANTA CLARA, Calif. — The San Francisco 49ers will welcome back at least one of their two injured stars against the Jacksonville Jaguars on Sunday.
Niners receiver Deebo Samuel, who has missed most of the past three games with a shoulder hairline fracture, practiced in full every day this week and has no injury designation for Sunday.
And while Samuel will return, the Niners are hoping that left tackle Trent Williams (right ankle) will also be back, though his situation is far more tenuous. Williams returned to practice Thursday and Friday on a limited basis and is listed as questionable for Sunday.
"I think he's real questionable to be playing," coach Kyle Shanahan said. "If it's no tomorrow then we'll wait until game time. Today was half speed [and he] wasn't able to do a lot yesterday and we want to know how he feels all the way going up to it."
Samuel's return is much-needed for an offense that averaged more than 30 points per game the first five weeks (all wins) but has sagged to 17 points per game over the past three (all losses).
On the 56% of the offensive snaps the Niners have played with Samuel on the field, they have averaged 6.9 yards per play, with quarterback Brock Purdy throwing eight touchdowns and no interceptions for a QBR of 82. Without Samuel, those numbers drop to 5.4 yards per play, 4 touchdowns and 5 interceptions for a QBR of 59.
"I think he complements everybody," running back Christian McCaffrey said. "Just having him on the field, he's such a threat whenever he has the ball. He makes a play that looks like it's not going to work go. Just having that confidence that he's out there means a lot to all of us."
For his part, Samuel said he felt fresh and could sense a boost in energy for the whole team during the practice week coming off the bye. He said Thursday that while it was hard to miss the past three games, he isn't going to try to do too much in his return.
"Anytime you're not part of the game, it's kind of hard but I have kind of been there before," Samuel said. "It's just another game, not trying to do nothing crazy, just go out there and do what I do."
Williams' status remains murkier. He initially suffered the ankle sprain early in the Week 6 loss to the Cleveland Browns but finished that game. He has not played since, though, and Shanahan acknowledged Wednesday that although Williams does not have a high sprain, he's dealing with more than just a low sprain because of past injuries to the ankle.
Jaylon Moore has started the past two games in Williams' stead and would again Sunday if Williams doesn't show continued improvement after a couple of light practices and a long flight to Jacksonville.
Like Samuel, Williams' return would be a boon for the offense, particularly in the run, where the Niners have struggled to an average of 95.3 yards over the past three games (19th in the NFL) after posting 156.4 rushing yards per game in the first five weeks (3rd).
There has been a noticeable decline in San Francisco's ability to run left without Williams. The Niners are averaging just 3.9 yards per carry (24th) there in the past three games after ranking third in the league at 6.4 yards per attempt through the first five weeks.
Suffice to say, the 5-3 Niners would be more than happy to welcome both Williams and Samuel back as they attempt to end their three-game losing skid.
"Obviously, you get the ball into Deebo's hands and he can do some crazy stuff and help our team out big time," Purdy said. "To have Deebo back will be huge. Trent as well, like, that's going to be awesome to have him and his experience as leadership and sort of just help out with everything; run game, pass game, Trent's the best of the best. So, to have two of those guys back and give a spark and bring that energy to our offense, it's huge."
Defensive tackle Javon Hargrave is also listed as questionable after his knee "acted up" in practice Thursday, according to Shanahan. Guard Aaron Banks (toe) and defensive end Drake Jackson (knee) are out.
On the Jaguars side, receiver Zay Jones will miss his fourth consecutive game with a right knee injury. Head coach Doug Pederson said Friday morning that it was going to be a long shot for Jones to play against the 49ers, and the team ruled him out in the afternoon.
Jones first hurt his right knee in the Week 2 loss to Kansas City. He missed the next two games and returned against Buffalo on Oct. 8 but left that game after reinjuring the knee and hasn't played since.
ESPN's Michael DiRocco contributed to this report.