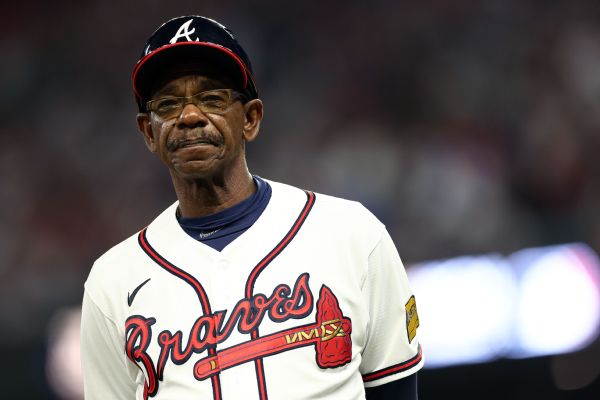 The Los Angeles Angels hired Ron Washington as their new manager Wednesday, opting for an experienced and respected coach as the team prepares for the possibility of a significant overhaul if star Shohei Ohtani leaves in free agency.
Washington, 71, last managed in 2014, when he resigned from the Texas Rangers, where he'd found significant success — including two World Series appearances — over eight seasons.
Despite a 53-87 record in his final season, Washington's career record is 664-611.
He joins the Angels from Atlanta, where he spent the past seven seasons as a third-base coach beloved by players and fans for his comedic musings and old-school techniques. His coaching career started with the Oakland Athletics after a 10-year career as a skillful utility player.
"He's everything you could want, he deserves the opportunity," said Braves president of baseball operations and general manager Alex Anthopoulos. "He's excited. Obviously I'm excited for him. It's a huge loss for us. I emphasize that in caps, bold, italicized, all of it. Huge void. But I had six years with him, and I can't imagine I'll be around a guy like that in my entire career."
Washington, who becomes the oldest manager in baseball, will receive a two-year contract. He is one of two Black managers in the game, joining the Los Angeles Dodgers' Dave Roberts after Dusty Baker of the Houston Astros retired last month.
He will be the fifth manager in seven years for the Angels, who have not won a playoff game since 2009. Owner Arte Moreno prioritized experience with the decision after declining the option on first-time manager Phil Nevin's contract in October, following Nevin's first full season. Nevin had replaced Joe Maddon in June 2022, when Maddon was fired after 2½ years.
The Angels' direction often depends on the whims of Moreno, whose decision to keep Ohtani at the trade deadline was as ill-fated as any in recent years. The Angels mortgaged some of their best prospects to add to a flawed team and then collapsed, leaving their farm system barren and the major league roster filled with questionable contracts and lacking talent.
Los Angeles went 73-89 last season, finishing behind a Seattle team with playoff aspirations, a Texas team that won the World Series and a Houston team that plans to reload this winter.
The Angels do still have talented players under contract, including three-time MVP Mike Trout, utility man Brandon Drury, center fielder Mickey Moniak and a trio of rookies who showed flashes of excellence in catcher Logan O'Hoppe, shortstop Zach Neto and first baseman Nolan Schanuel.
The Angels' pitching, meanwhile, was a mess, with a 4.64 ERA (23rd out of 30 major league teams), 4.00 walks per nine innings (28th) and one of the worst bullpens in baseball.
ESPN's Alden Gonzalez contributed to this report.