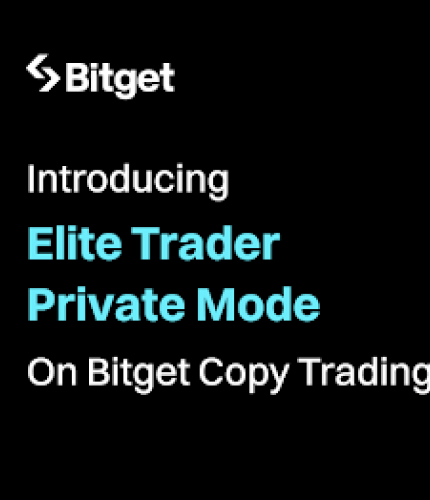 Bitget, a leading cryptocurrency exchange and web3 company, is thrilled to introduce Elite Trader Private Mode, a cutting-edge feature designed to redefine the world of copy trading for professionals.
Elite Trader Private Mode, set to launch in November 2023, creates an exclusive environment for professional traders and their dedicated followers. This innovative mode enhances the trading experience for both experts and their loyal follower bases, offering unique advantages that set it apart.
This new feature encompasses four pivotal components:
1. Whitelist Invitation: Professional traders can now personally invite specific users to follow their strategies, cultivating a loyal and valuable follower base. Customized invitation links empower experts to build their exclusive communities.
2. Trading Strategy Protection: Within the Private Mode, trading experts can exclusively share their strategies with their dedicated followers, ensuring comprehensive strategy protection. It empowers traders to maintain the confidentiality of their trading methods.
3. Profit Sharing Ratio Customization: Elite Trader Private Mode abolishes the need to lock up BGB (Bitget native tokens), enabling the flexible customization of profit-sharing ratios, ranging from 0% to 99%. This maximizes profit-sharing opportunities for traders, recognizing their significant contributions to the platform.
4. Personalized Follower Management: Experts and professional traders can closely monitor their followers' trading activities. This feature grants the ability to add and remove followers for more efficient management, ensuring that the community thrives.
The introduction of Elite Trader Private Mode reflects Bitget's unwavering commitment to delivering tailored solutions and continuously enhancing its platform based on user feedback. Bitget firmly places the needs of its traders at the forefront, creating a private trading environment that caters to their preferences. This tailored approach cultivates a unique trading experience.
Gracy Chen, Managing Director of Bitget, expressed her excitement about this new addition, saying,
"We are committed to continuously improving our platform and providing tailored solutions to meet the diverse needs of our valued traders. Elite Trader Private Mode is a testament to our dedication to creating an enriched trading experience for our community."
For professional traders, Elite Trader Private Mode opens doors to substantial profit-sharing opportunities, recognizing their invaluable contributions to the Bitget community. Followers gain access to exclusive services and receive unparalleled support from top global trading experts, enriching their trading journeys.
The feature also fosters community building, encouraging interaction, collaboration, and knowledge sharing among traders. Elite Trader Private Mode is poised to strengthen Bitget's trading community by promoting camaraderie among its members.
Aside from copy trading, Bitget has been actively launching product upgrades to aid smarter trading. The recent introduction of the AI-empowered series for Martingale Strategies, grid trading, and auto-invest, as well as Futures Quants, exemplify Bitget's commitment to providing state-of-the-art tools for traders. These enhancements are designed to streamline the trading process, save time, and maximize efficiency, allowing traders to better adapt to market conditions and optimize trading performance.
Disclaimer: This article is provided for informational purposes only. It is not offered or intended to be used as legal, tax, investment, financial, or other advice.