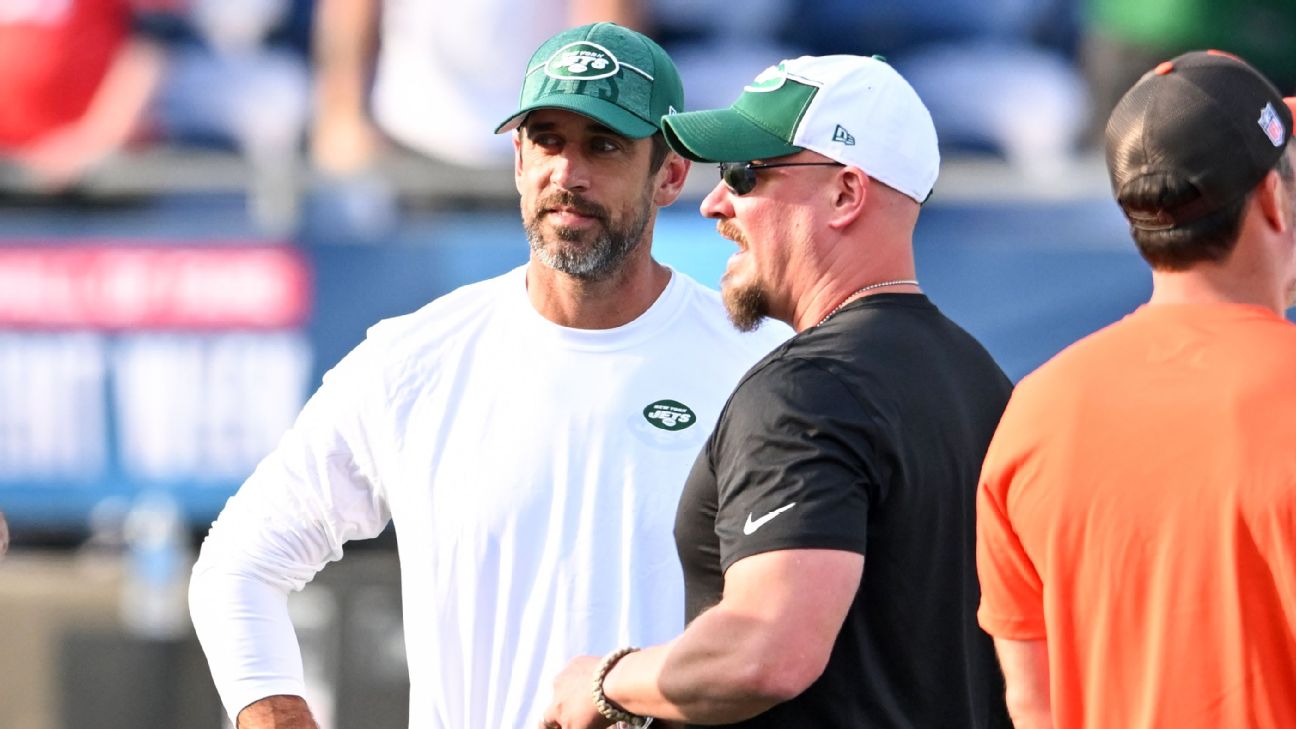 Injured quarterback Aaron Rodgers has witnessed some pretty bad offense from his weekly position on the Jets' sideline, but he doesn't see it as a scheme or playcalling problem.
Rodgers, in his weekly spot Tuesday on "The Pat McAfee Show," defended offensive coordinator Nathaniel Hackett, who has come under fire amid a historically poor performance by the offense.
"Yeah, yeah, I see it," Rodgers said of the criticism. "I won MVP twice in the same offense, so I'm a believer. I'm a believer in the offense. There are a lot of positions, you have to play better. But, yeah, it's easy right now to throw it at the usual suspects, Zach [Wilson] and Nathaniel, but there's a lot of positions that need to play better."
The Jets (4-5) have gone 11 straight quarters without a touchdown, covering 36 offensive possessions — the NFL's longest active drought. On Monday, coach Robert Saleh backed Hackett and Wilson, saying he has no plans to replace them.
That Rodgers threw his support to Hackett shouldn't come as a surprise. The two are very close, with Rodgers indicating that Hackett was one of the main reasons why he wanted to play for the Jets. Rodgers won his third and fourth MVPs in 2020 and 2021, when Hackett was the Packers' offensive coordinator under coach Matt LaFleur, who was the playcaller.
In New York, Hackett built his offense around Rodgers, but was forced to reinvent it when the 39-year-old quarterback ruptured his Achilles on the fourth play of the season. The Jets have scored only eight offensive touchdowns with Wilson at the helm.
"It's tough because we're nine games in," Rodgers said. "I think a lot of the issues that we're having are ones that we've had for a lot of the season. We're not being efficient in the red zone, not being opportunistic on third down. We're very low in both those categories."
They're ranked 32nd in both categories.
Rodgers didn't call out any players by name, except to say left tackle Mekhi Becton could've made a better block on a failed third-and-1 conversion in their 16-12 loss to the Raiders on Sunday night. (He later praised Becton, calling him their most consistent lineman and one of his favorite players on the team.) Rodgers' message was clear: It's on the players, not the coaches.
"There's a lot of geniuses out there with ideas about how to fix the whole thing, but in actuality, it's very simple," he said. "If you watch the film, you can see where the issues lie and there are plays to be made. There are opportunities that are out there and we're just not getting it done."
On that particular play, the cameras caught Rodgers — wearing a headset — grimacing after Hackett sent in the play call. It was widely assumed that he didn't like the call. He said it looks like "a s— call" because of the result, but that it could've worked with better execution.
With regard to his recovery, Rodgers — nine weeks removed from surgery — said he's planning to rejoin the team on a full-time basis "real soon." He has been rehabbing at a facility in Los Angeles, flying to games on the weekend. He didn't refute NBC's report during the telecast that he's hoping to return by mid-December. Previously, he suggested a December return was his goal.
"There's no set date," he said. "I mean, it could change. If I have a great week this week and next week, that could be accelerated. If we're not in [contention] in three or four weeks, that could take it a different way. But I expect us to be in it and I expect to come back."
Saleh said this week, "If the doctors clear him, then we'll clear him."