Monthly construction output is estimated to have increased 0.4% in volume terms in September 2023, according to the ONS.
This came solely from a 2.1% increase in repair & maintenance between August and September as new work slowed by 0.8%.
Anecdotal evidence received from survey returns the warm, dry weather in September helped promote construction activity. According to the Met Office, September 2023 was the joint hottest September on record for England and Wales.
Private housing repair & maintenance was the fastest growing subsector, increasing by 3.0%. Britain, it seems, was literally fixing its roofs while the sun shone.
Across the third quarter of the year, July to September, construction output increased by 0.1% compared with the second quarter, thanks to a 0.7% rise in repair & maintenance; new work saw a decrease of 0.3%.
While third quarter growth was even weaker than Q2's growth of 0.3%,  the numbers are still in positive territory, indicating that the British construction industry is not in recession. 
Total construction new orders in Q3 increased by 3.9% (or £393m) over Q2. This quarterly rise in orders came mainly from public other new orders and infrastructure new orders, which increased 23.7% (£265m) and 14.3% (204m) respectively.

The annual rate of construction output price growth was 3.9% in the 12 months to September 2023. This has slowed from the record annual price growth in May 2022, when it hit 10.4%.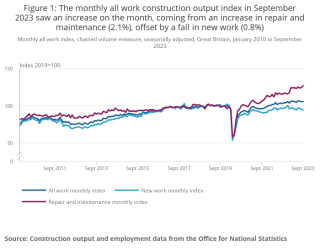 Clive Docwra, managing director of property and construction consultancy McBains, said: "Today's figures will provide a measure of relief for the construction industry, coming off the back of two successive months of falling output.
"While we have seen a small uptick in development lending, where schemes that were previously unviable have been re-purposed to align with current market conditions, this is not reflective of overall market sentiment, as evidenced by today's figures showing a 0.8% decrease in new work on the previous month. 
"Our clients tell us that borrowing costs are still deterring some investments, and while interest rates may have peaked, the longer-term outlook remains uncertain.  
"On the plus side, the industry will welcome total construction orders increasing over the third quarter of 2023 compared with the previous quarter, as a result of new work in the public and infrastructure sectors, but volume housebuilding will take more time to see a turnaround while interest rates remain high."