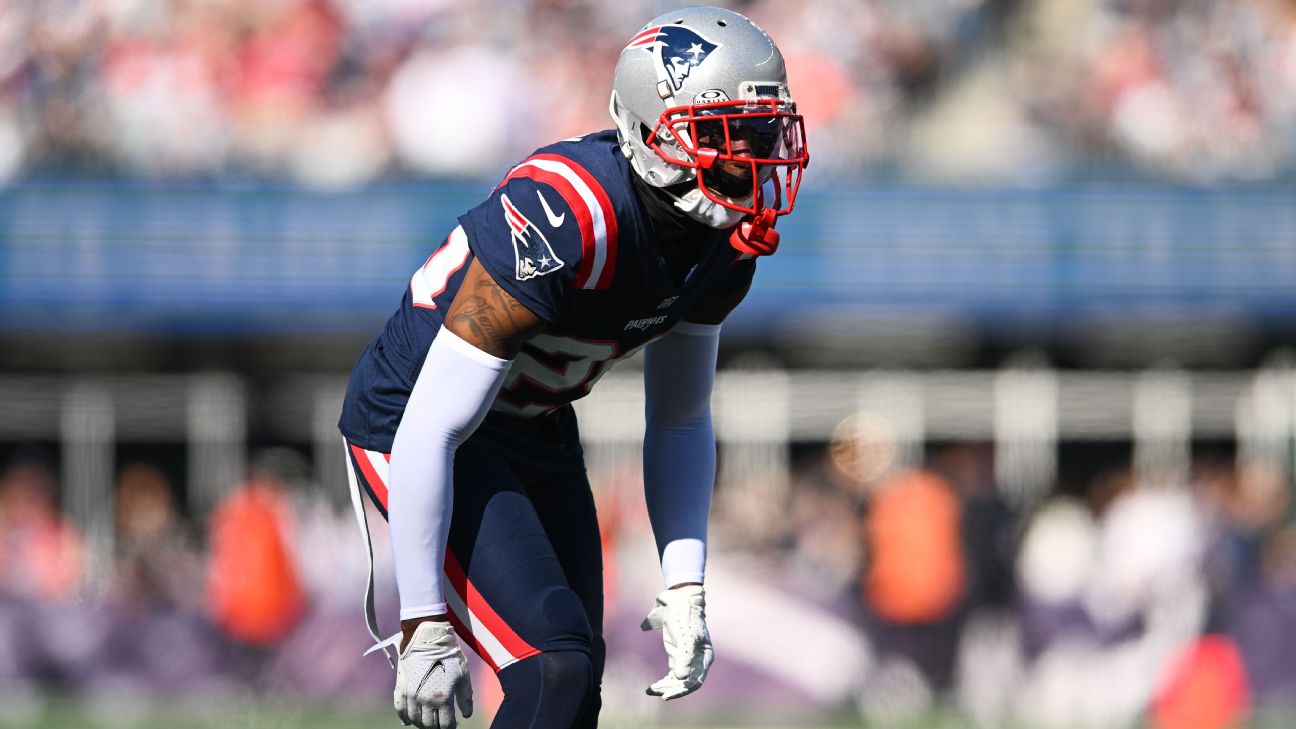 FOXBOROUGH, Mass. — Patriots cornerback J.C. Jackson, who was demoted from the starting lineup in Sunday's loss to the Commanders, is not expected to travel with the team to Frankfurt, Germany, for Sunday's game against the Colts, a source confirmed.
NFL Network first reported that Jackson won't travel for the game, citing questions about his reliability. A source told ESPN that Jackson missed curfew at the team hotel Saturday. SI.com had previously reported that Jackson was late to the hotel.
The Patriots acquired Jackson in a trade from the Chargers on Oct. 5, as Jackson had fallen out of favor with the Chargers after signing a four-year, $82.5 million deal as a free agent in March 2022.
The Patriots lost rookie cornerback Christian Gonzalez, their first-round draft pick, to a torn right labrum on Oct. 1.
Jackson was utilized as a backup in his first game back in New England, where he had played the first four seasons of his career (2018-2021). He was then elevated to the starting lineup for the next three games.
On Oct. 29 against the Dolphins, his technique breakdown led to a 42-yard touchdown catch by Tyreek Hill, and he later was in coverage for another touchdown catch. When Jackson didn't start this past Sunday against the Commanders, coach Bill Belichick said it wasn't a benching and noted that all of the team's cornerbacks played in the game. Jackson totaled 53 snaps.
Asked the next day about Jackson's transition back to the Patriots, Belichick said: "Well, it's been a transition. I think his off-field training and physical health and conditioning has definitely improved. So, he's done a good job working at that. Just the consistency in the secondary from everybody is something we need to do a better job of."
On Tuesday, cornerbacks coach Mike Pellegrino deflected questions about the team's decision-making with Jackson, as well as second-year cornerback Jack Jones, who also was bumped down the depth chart.
Jones also showed up late to the team hotel, a source told ESPN, which contributed to his reduced role in the game.
Third-year pro Shaun Wade, who Belichick said is deserving of more opportunities, made his second career start in place of Jackson.
"Things happen. I just put the guys out there that I felt like were ready to go in that moment. Everybody knows what they need to do to play, I'll leave it at that," Pellegrino said.
"I'm not trying to create a narrative. I trust all my guys. They all went in and played. … I think it's what Shaun did to earn that right. Shaun had a great week of practice. Shaun played really well and did his job. Shaun is a different player than what he has been in the past. He got what he deserved."