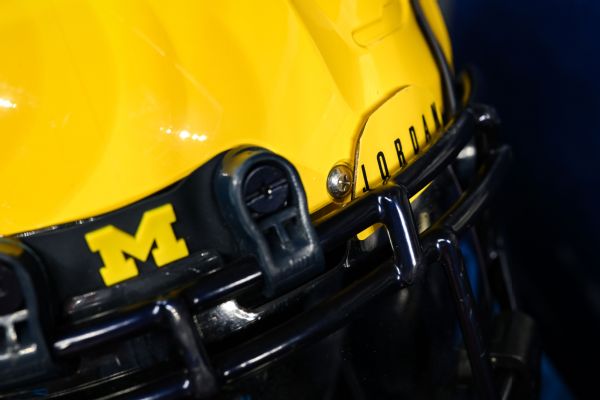 Michigan has sent documents to the Big Ten that the school believes show three conference teams engaged in communication about the Wolverines' signals in 2022, sources told ESPN.
The three teams involved are Rutgers, Ohio State and Purdue, sources said. Purdue, which faced Michigan in the 2022 Big Ten championship game, received offensive signals from Ohio State and defensive signals from Rutgers, according to sources. Michigan beat Rutgers 52-17 on Nov. 5 and beat Ohio State 45-23 on Nov. 26, a game that clinched the East Division for the Wolverines.
A Big Ten source said the league has forwarded any information to the NCAA for possible follow-up. It's unknown whether the signal sharing between league teams violates the Big Ten's sportsmanship policy or any NCAA rules. The information passed along is not expected to impact the Big Ten's potential discipline for Michigan under the sportsmanship policy, a source said. NCAA rules do not prohibit in-game signal stealing but bar schools from off-campus scouting in advance of games.
The Big Ten recently sent Michigan a notice of disciplinary action, required by the sportsmanship policy "in the event it becomes clear that an institution is likely to be subjected to disciplinary action," a school official told ESPN on Monday. Michigan has until Wednesday to respond to the Big Ten, at which time discipline could be imposed. A suspension for football coach Jim Harbaugh is believed to be the likeliest potential discipline, according to sources.
The Big Ten's sportsmanship policy states that the conference "expects all contests involving a member institution to be conducted without compromise to any fundamental element of sportsmanship. Such fundamental elements include integrity of the competition, civility toward all, and respect, particularly toward opponents and officials."
The Associated Press reported Monday a former employee at a Big Ten program shared documents with Michigan that showed the Wolverines' signs and how they specified certain run and pass plays. The document described specific plays and the corresponding signals. According to AP, the former staff member gave Michigan screenshots of text-message exchanges with other staff members at Big Ten schools showing the plan to collect Michigan's signals.
Michigan defeated Purdue 43-22 to win its second consecutive Big Ten title and advance to the College Football Playoff.
Purdue did not respond to a request for comment, and Rutgers declined to comment. Ohio State did not immediately respond to a request for comment.