Video Assistant Referee causes controversy every week in the Premier League, but how are decisions made, and are they correct?
After each weekend we take a look at the major incidents, to examine and explain the process both in terms of VAR protocol and the Laws of the Game.
– How VAR decisions have affected every Prem club in 2023-24
– VAR in the Premier League: Ultimate guide
In this week's VAR Review: Should the penalty awarded to Erling Haaland have been overturned? And could his goal have been ruled out for handball? Plus red card situations for Wataru Endo, Mahmoud Dahoud and Fábio Vieira.
---
Possible penalty overturn: Cucurella challenge on Haaland
What happened: Manchester City were awarded a penalty in the 21st minute when Marc Cucurella was adjudged to have held back Erling Haaland. But should the VAR have intervened to overturn it?
VAR decision: Penalty stands, scored by Haaland.
VAR review: The spot kick was advised by the assistant, Gary Beswick, who had the best view from his position on the right wing of the pitch. That's what caused the short delay before referee Anthony Taylor pointed to the spot.
It's a soft decision, and preferable not to be awarded by the on-field team. The VAR isn't likely to overturn a call like this as a clear and obvious error, not would he advise a penalty should be awarded if it hasn't been given.
The main focus has been a possible foul by Haaland before Cucurella's infringement. Haaland was grappling with Cucurella, and they both had hold of each other's arms. When this happens it's considered that neither player has committed an offence, as both are guilty of holding. Cucurella then continues the hold after Haaland has released, which is why Beswick advised the penalty.
The issue, as discussed in the VAR Review two weeks ago when City were awarded a VAR penalty for holding in the Manchester derby, is that holding is so seldom penalised, be that by the referee or through a VAR intervention, that it brings up valid questions of consistency. For instance, Liverpool wanted a penalty for holding on Virgil van Dijk against Luton Town last week, and on Diogo Jota against Brentford on Sunday. Manchester United also felt Harry Maguire had been held back against Luton at the weekend.
League Managers Association chief executive Richard Bevan last week called for two VAR changes as the pressure was cranked up on PGMOL. The first was for referees to work in regular teams with a VAR, though this is never going to be possible until a bank of full-time VARs has been recruited, which will take time.
Bevan also wanted "clear and obvious" to be redefined, yet it will always be wrapped up in the subjectivity of an individual VAR. You can rebadge "clear and obvious," but with this system of VAR created by FIFA and the IFAB it will always be a second subjective opinion from another referee in Stockley Park. Change "clear and obvious" if you wish but it only shifts the real problem, and that's better training of and decision-making from those who act as a VAR to know when the game expects an intervention. And that's not easy to achieve, as we saw with some of the decisions in the Champions League last week.
Possible handball: Haaland when scoring
What happened: Haaland put City 3-2 up two minutes after half-time when he bundled home from close range. However, the VAR began a check for handball.
VAR decision: Goal stands.
VAR review: If this goal had been disallowed we would have faced another huge controversy, but that could only be laid at the door of the handball law rather than VAR itself.
After the ball hit Haaland, he raised his right arm to make sure it stayed out of the way of the path of the ball. However, as the striker slid across the turf the ball went very close to his left elbow.
If the ball had touched Haaland's elbow before the whole of the ball had crossed the whole of the line, even though the player was off the pitch, the goal would have been disallowed. Any touch of the arm on the ball immediately before a goal would mean it would have to be ruled out.
Possible handball: Walker
What happened: Kyle Walker chased back with Mykhailo Mudryk in the 76th minute, with goalkeeper Éderson rushing out to clear the ball. However, the ball hit the outstretched arm of the City defender.
VAR decision: No denying an obvious goal-scoring opportunity (DOGSO).
VAR review: There could be no consideration for DOGSO against Walker for two reasons.
Firstly, there is an exemption against handball if the ball is kicked against a player by a teammate, even if the arm is extended away from the body.
Secondly, any potential handball would be preventing the clearance from Ederson, and not the ball running through for Mudryk for a goal-scoring chance.
Possible penalty overturn: Dias on Broja
What happened: Chelsea were handed a penalty in the second minute of added time when Rúben Dias slid in and caught Armando Broja. Referee Taylor immediately pointed to the spot.
VAR decision: Penalty stands, scored by Cole Palmer.
VAR review: An easy decision for the VAR to uphold this spot kick. While Dias might have got a very small touch on the ball, it wasn't enough to negate the nature of the challenge, which took away Broja's standing leg as he looked to shift the ball to the right.
---
Possible onside: Nunez when scoring
What happened: Darwin Núñez thought he had put Liverpool in front in the 22nd minute, but the flag went up for offside.
VAR decision: No goal.
VAR review: A close decision, but the Liverpool striker was just in front of the last defender when Dominik Szoboszlai played it on.
The two offside lines aren't touching, so Nunez does not get the benefit of the tolerance level within the offside technology which would have seen the goal allowed.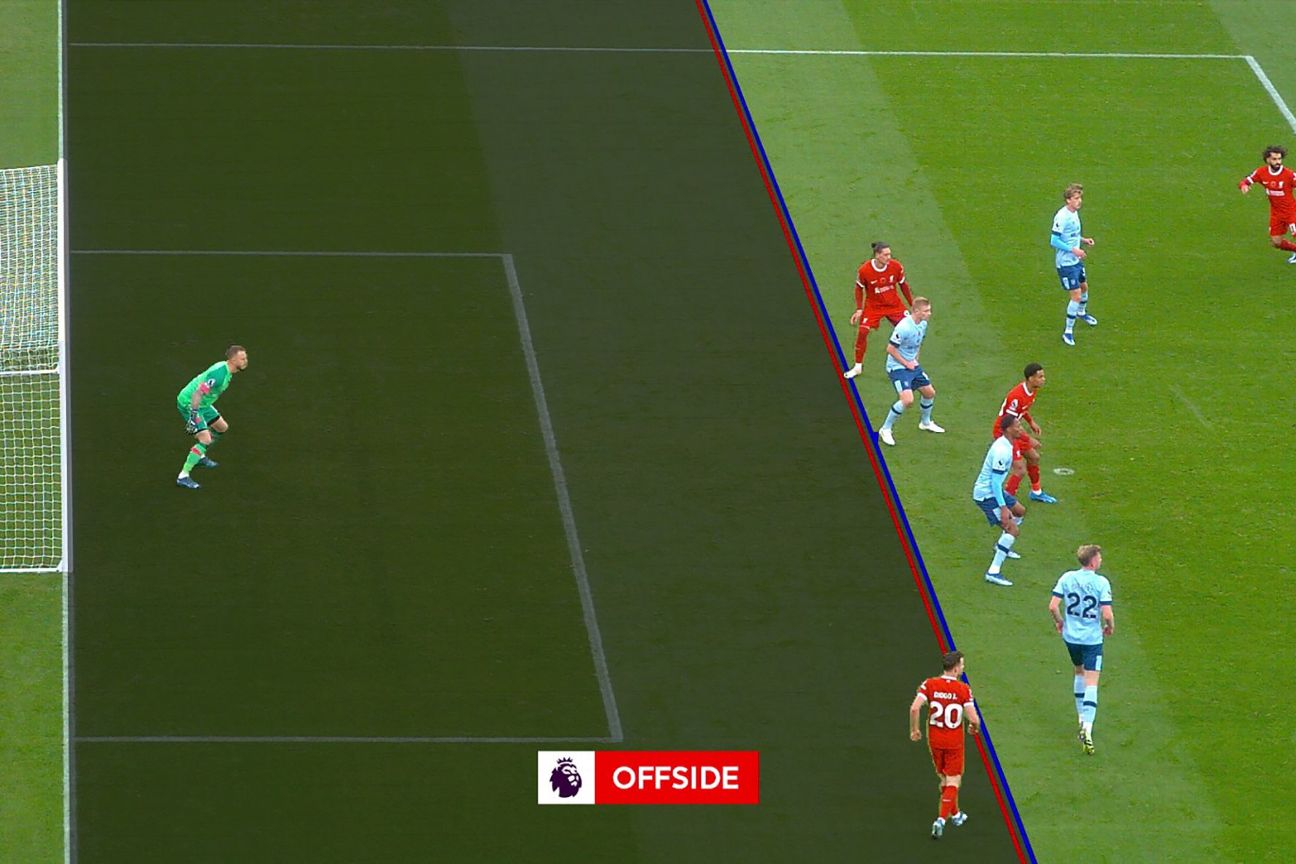 Possible red card: Endo challenge on Nørgaard
What happened: In the 54th minute, Wataru Endo went into a challenge with Christian Nørgaard. Referee Paul Tierney decided there was no foul and allowed play to continue, before stopping it for treatment for the Brentford player.
VAR decision: No red card.
VAR review: Brentford boss Thomas Frank questioned why this wasn't a red card, compared to other recent decisions, but it doesn't come close to reaching the threshold for an intervention.
This was a 50-50 challenge, with both Endo and Nørgaard going into it in a similar way to win the ball. The Liverpool player doesn't have his leg fully extended into the contact with Nørgaard, which is looked for as evidence of excessive force. That Nørgaard suffered a cut to his leg was an unfortunate consequence, rather than the result of a tackle that endangered the safety of an opponent.
The VAR review took over four minutes, which was far too long, though the player needed treatment anyway.
Possible ball out of play: Salah goal
What happened: Mohamed Salah scored his second goal of the game in the 62nd minute when he headed home after a cut back from Kostas Tsimikas, but was the ball out of play?
VAR decision: Goal stands.
VAR review: After the unnecessary furore around Newcastle United's winning goal against Arsenal last week, which was rightly ruled to be the correct decision by the Premier League's Independent Key Match Incidents Panel, we probably should have expected a very similar situation this weekend.
This time the ball was in view in the goal-line camera, just as it was for Rasmus Højlund's disallowed goal for Manchester United against Brighton earlier this season.
---
Possible handball: Bogle
What happened: Brighton & Hove Albion appealed for a penalty in the 52nd minute when still leading and with 11 men when the ball struck the arm of Jayden Bogle. Referee John Brooks wasn't interested in a penalty (watch here).
VAR decision: No penalty.
VAR review: This is a close call for a handball, and one which the VAR, Chris Kavanagh, must have seriously considered for a review. However, we haven't seen any VAR penalties this season when the arm is close to the body and the player is turning his back.
Bogle's arm is in an expected position when the cross is hit by Mahmoud Dahoud. Is Bogle's movement of his body a natural result of turning away or a deliberate act of handball? It's the kind of situation more likely to be penalised in European competition than the Premier League, but it's debatable.
Possible red card overturn: Dahoud challenge on Osborn
What happened: Dahoud was shown a straight red card in the 69th minute when catching Ben Osborn with his studs when trying to turn with the ball.
VAR decision: Red card stands.
VAR review: An example of a referee taking more decisive action on the pitch against serious foul play, which is penalised far less in the Premier League compared to other competitions.
Dahoud's challenge is similar in nature to Marcus Rashford's red card for Manchester United against FC Copenhagen in the UEFA Champions League, in that it wasn't really a tackle and more a result of looking to turn, or for Rashford shielding the ball. But in both cases making contact with an opponent high above the boot with force, intentional or not, is likely to result in a red card.
---
Possible red card overturn: Vieira foul on Brownhill
What happened: Fábio Vieira was shown the red card in the 83rd minute for a challenge on Burnley midfielder Josh Brownhill.
VAR decision: Red card stands.
VAR review: Michael Oliver didn't hesitate in sending off Vieira, with the challenge being high with the studs to Brownhill's knee.
A red card for challenges like these is the better decision, though we've not always seen that — and not through a VAR decision. If Oliver had opted to show a yellow, there's a chance that the VAR, Michael Salisbury, could have supported the caution due to a lack of force. But as with Dahoud, we need to see more decisive action against serious foul play and violent conduct.
Last weekend three straight red cards were missed on the field, for Newcastle United's Bruno Guimarães, Arsenal's Jorginho and Tottenham Hotspur defender Destiny Udogie (though this one was not seen as a clear and obvious error for VAR to intervene.)
They are just the latest examples of players escaping red cards for bad tackles because of the way the game is refereed in England. If players aren't being penalised as they should by the referee, and the VAR is allowing them to escape the most severe sanction due to the high bar, it almost promotes the worst of challenges.
---
Possible penalty overturn: Branthwaite challenge on Eze
What happened: Jarrad Branthwaite dangled out a leg as Eberechi Eze looked to move forward in the area, with referee Sam Barrott pointing to the spot.
VAR decision: Penalty stands, scored by Eze.
VAR review: Branthwaite's challenge wasn't the worst you're ever likely to see, but he placed his leg out and there was contact with the Crystal Palace player. There was nothing in this incident for the VAR, Andy Madley, to get involved in.
Possible penalty: Branthwaite on Eze
What happened: Eze got to the goal-line and looked to move past Branthwaite. The forward went to ground following a challenge, but the referee booked him for simulation.
VAR decision: No penalty.
VAR review: The VAR will look for their being enough contact to change the decision of no penalty from Barrott, but he cannot remove the yellow card for diving without being sent to the monitor.
It's one of the frustrating aspects of VAR protocol, whereby it will be obvious that Eze hasn't really dived, though he does go down theatrically which doesn't match the level of contact. It's not a penalty, but not a dive either.
If the VAR sends the referee to the monitor for a penalty review, he can then reject that advice but still remove the booking. When at the monitor, the referee has all options open to him — including adding or cancelling cautions which the VAR cannot advise himself.
---
Possible penalty overturn: Castagne handball
What happened: Aston Villa thought they had been awarded a penalty in the seventh minute when referee awarded a penalty for handball against Timothy Castagne, but a VAR review quickly changed that.
VAR decision: Penalty cancelled.
VAR review: Castagne had his arm way above his head, and referee Simon Hooper mistakenly thought it had stopped a shot from Ollie Watkins.
The ball had in fact hit the Fulham player on the head, and Michael Oliver as the VAR quickly stepped in. This is the kind of huge error that VAR was intended to prevent when it was brought in.
Even though Castagne effectively deflected the ball over the bar for a corner, all penalty overturns restart with a dropped ball to the goalkeeper.
---
Some parts of this article include information provided by the Premier League and PGMOL.