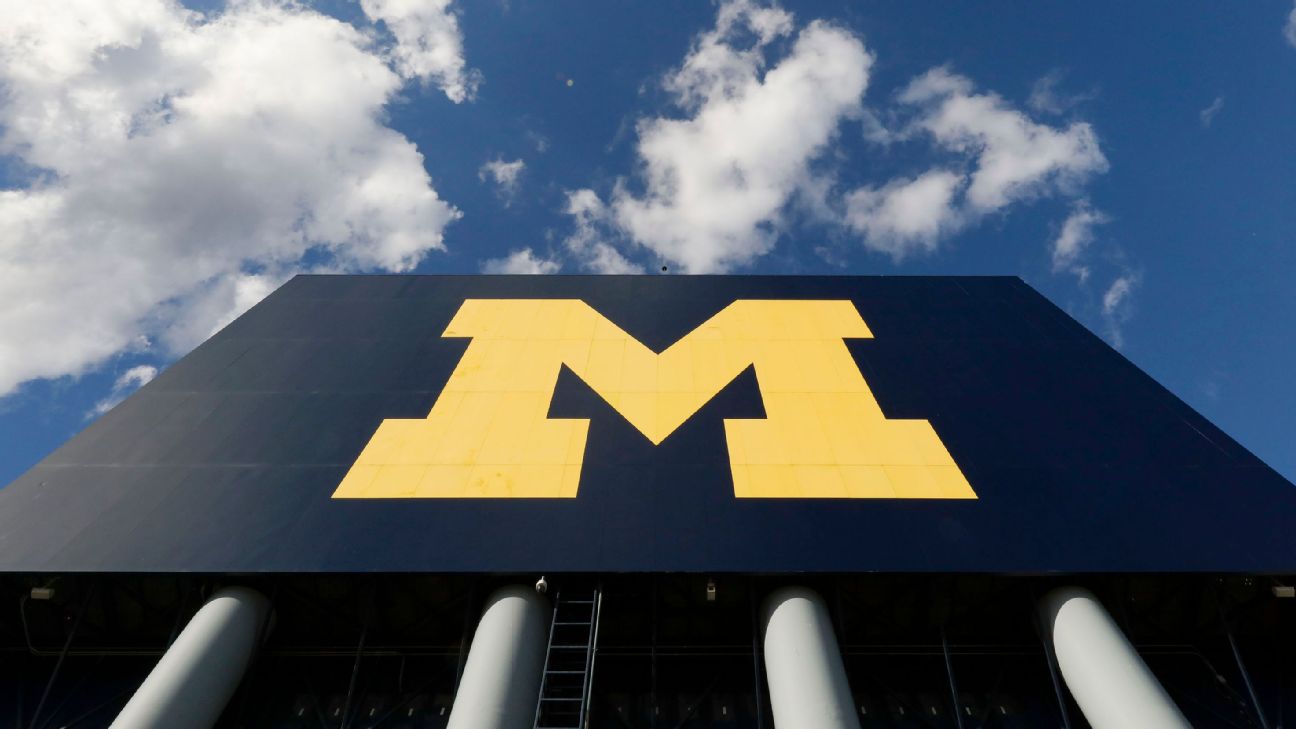 Michigan has sent its response to the Big Ten's notice of disciplinary action, a university official told ESPN on Wednesday, leaving conference commissioner Tony Petitti to make his decision on a potential punishment for the Wolverines.
There is an ongoing NCAA investigation regarding allegations of off-campus scouting and signal stealing by former Michigan staffer Connor Stalions, but Petitti and the Big Ten sent Michigan its notice as required by the sportsmanship policy "in the event it becomes clear that an institution is likely to be subjected to" penalties.
Any potential discipline from Petitti is not expected until Thursday, a source told ESPN. It's unknown as of now what the potential penalties could be, but a source said the most likely penalties, including any suspensions, would focus on coach Jim Harbaugh and not the players.
According to a source, Michigan's 10-page response to the conference was focused on urging Petitti to respect due process and argued that a sanction at this stage would be breaking the league's bylaws — an effort to lay the groundwork for potential legal intervention if Harbaugh is suspended this week.
The contents of the letter, first reported by Yahoo! Sports and later confirmed to ESPN, also suggested that the Big Ten should be cautious about the precedent it sets in this case because Michigan believes in-person scouting and other collusion to steal signals is more prevalent than previously known.
The letter was crafted with input from the university's Board of Regents, general counsel's office and outside counsel Williams & Connolly, a high-priced national firm based in Washington, D.C.
"We're not bringing a knife to a gun fight," a source told ESPN on Wednesday night.
In addition, Petitti is facing pressure from 11 Michigan lawmakers, who penned a letter to the commissioner on Wednesday, urging him to act prudently and refrain from making any premature measures against the state university.
"It is essential that the Big Ten Conference not take any disciplinary action against the University of Michigan until the final results of its own or, more appropriately, the NCAA investigation are officially announced," part of the letter read.
The letter was signed by state representatives Phil Skaggs, Graham Filler, Donovan McKinney, Carrie Rheingans, Jennifer A. Conlin, Jason Morgan, Felicia Brabec, Sue Shink, Jimmie Wilson Jr., John Cherry and Alabas Farhat.
The legislators warned Petitti that if the Big Ten rushes to judgment or engages in any "ill-considered actions," the lawmakers will vigorously support the public university in their efforts to compel fairness and due process.
If Petitti elects to impose a significant punishment or sanctions against Harbaugh or the University of Michigan, the school is expected to explore all legal options to push back. That includes seeking an injunction or temporary restraining order, sources told ESPN.
ESPN's Dan Murphy contributed to this report.