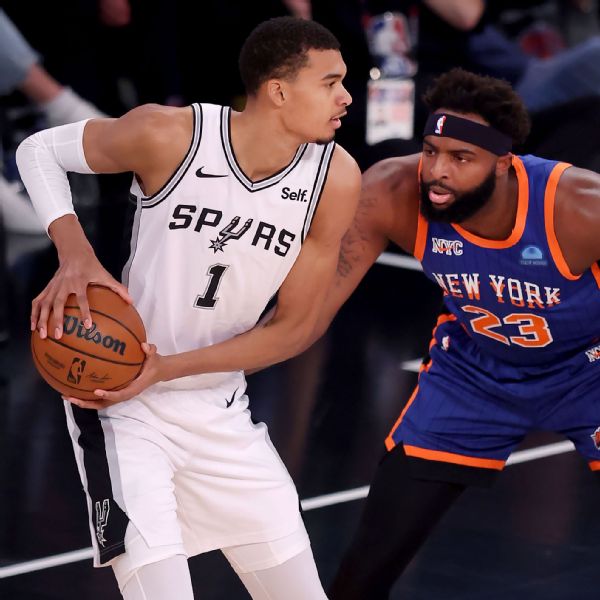 NEW YORK — Victor Wembanyama walked into Madison Square Garden on Wednesday morning for the San Antonio Spurs' shootaround and understood the history that filled the building.
Spurs coach Gregg Popovich called it the best place to play basketball, and while Wembanyama agreed, noting the arena was "pretty special" following his debut there Wednesday night, the team's performance was anything but.
The New York Knicks controlled the game from the outset and were never threatened in a 126-105 victory.
"We're learning," Wembanyama said. "As a young team, any team really, we're going to go through losing streaks sometimes during the season in tough times. It's going to happen. But the most important thing is how we bounce back."
It was the third consecutive defeat for the Spurs, who have given up at least 120 points in seven of their eight games this season.
"We got good intentions, and we learned a lot also from the coaching staff defensively, so we're just trying to apply what they say," Wembanyama said.
"But I think what's good is we are bringing energy at all times, so this is a good start. But we got great potential defensively. I know in the past games, especially in Phoenix, we've seen great defensive sequences. We're just all getting it together."
After back-to-back wins against the Suns last week, the Spurs have dropped games to the Toronto Raptors, the Indiana Pacers and the Knicks.
Popovich said all of the games early on have the potential to be teaching moments for his team, which is the youngest in the league.
"Every game is a game of mistakes," Popovich said. "You learn when you win, you learn when you lose. But we will watch film, we'll pick out things for the team and for individual players. We'd be doing the same thing if we had won the game."
Wembanyama finished with 14 points, nine rebounds and a block. He didn't make his first field goal until the 3:18 mark of the third quarter when he drained a 9-foot jump shot. The crowd got loud when he threw up two air balls during the first half, and some even booed him during parts of the second.
The Knicks, as other teams have done, tried to be physical with Wembanyama. According to ESPN Stats & Information tracking, Knicks center Mitchell Robinson was the primary defender on six Wembanayama field goal attempts and held him without a basket.
Wembanyama said he's used to teams defending him physically — he said it happened in Europe before he made the move to the NBA — and Spurs guard Tre Jones says it's something San Antonio will have to adjust to.
"Some teams will for sure try to attack him and whatnot, be very aggressive with him, physical with him," Jones said. "But it is what it is, and as long as he continues to develop like we know he will, it'll be like that for however long he plays, and so it's something that we'll just get used to.
"We will have to just have that in our minds right away to know that we got to come out, be the ones that bring it to these teams."
With his first trip to the Garden under his belt, Wembanyama said he wants all of them to feel the way it did Wednesday, although preferably with more victories down the line.
"No matter how many times I play here," Wembanyama said, "I hope it will always be special."